Description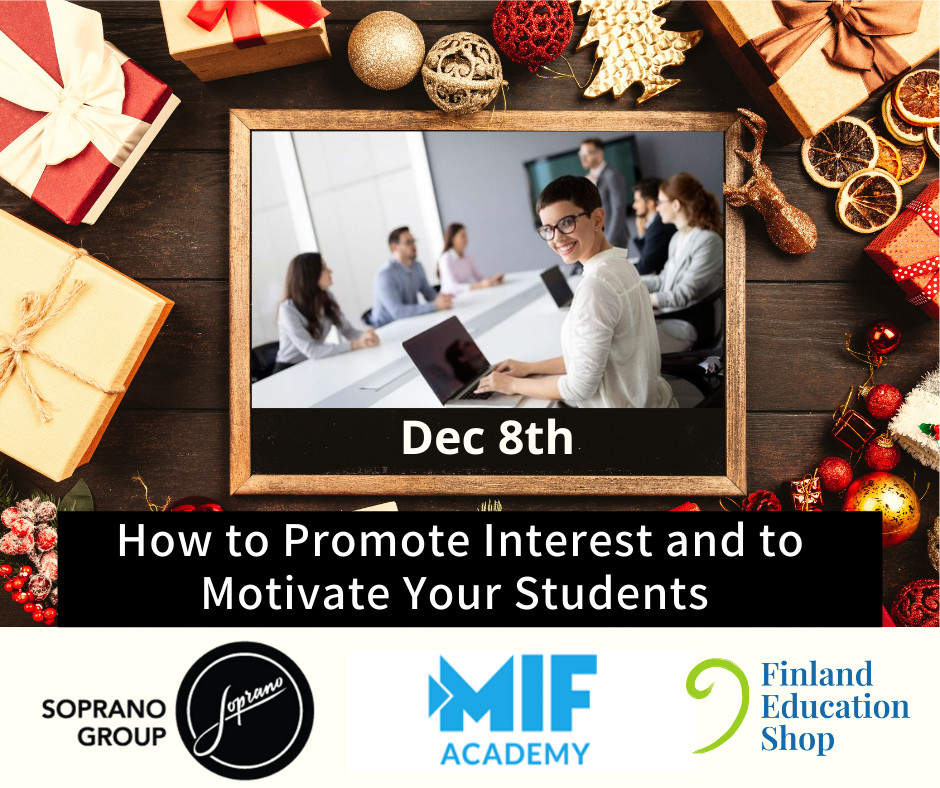 Teachers are the superstars of the 21st century
The work performed by teachers is highly demanding and requires therefore constant systematic competence-development throughout the careers. How to Promote Interest and to Motivate Your Students course provides you with a deepened understanding of learner-centric pedagogy, along with the skills and competencies to further apply and develop teachers' pedagogical practices. With this short course of two modules, that are created by the leading educational professionals in Finland, you are able to maintain and acquire skills for rapidly changing working life.​
Get familiar with teachers' pedagogical training created in Finland by leading educational experts
In many countries around the world, education is still very teacher-oriented. Very many students are still expecting a strong role of the teacher instead of being self an active actor. During the last years, the learning has changed from teacher-oriented towards students' self-driven learning. The teacher has a new role as an expert and an enabler. The student groups are bigger, and each teacher has to teach more and more students. Digitalization and online courses can help in this, but it demands new skills.
Lifelong learning has become a part of teachers' everyday life. There are always new things to be learned, and this requires self-driven learning also from teachers to meet the new challenges in teacher training. With this short and effective course, you can easily, quickly, and cost-efficiently develop especially those skills and competencies that are relevant for you in your own work.
Learning outcomes
After How to Promote Interest and to Motivate Your Students course you know, how to use the most modern educational practices of Finnish teacher trainers.
By using these practices, you will be able to spark the interest of your students and maximize the number of interested and motivated students who are truly engaged in learning.
You can support them to achieve their maximal potential by activating them and supporting them by using the feedforward method.
A digital certificate will be awarded to participants, who have successfully passed the course.
Contents
Module 1 – How to spark interest in your students?
How can you promote interest in your students?
Why to promote interest?
Create a lesson plan to promote interest in your students
Learn from failure
Overcome the obstacles with your peers
Module 2 – Motivations: Why and how to motivate your students?
Motivation and learning goals
Activating your own ideas
Motivating your students
The concept of feedforward
Feedforward challenge
Why to activate your students?
Completion methods
Modules include writing a personal learning journal and reflection of current teaching methods, challenges related to the topic, and learning theory.
Designing new teaching practices and applying them with students in real life and applying learned ideas into practice of your daily work as a teacher.
Online learning in an advanced learning platform including an introduction module, that helps you to start your student-engaging journey.
All participants will be provided access to online learning platform that helps them to create their development plans for their own operations.
Duration: You can complete each module in about 1 -2 weeks as you can study at your own pace depending on your own work.
Target group: The course is designed for teachers, teacher students, principals, and education developers.
Produced by: MIF Academy / Soprano Plc in collaboration with ELE.
Access to the course: This course can be completed at your own pace within 30 days.
Recommended courses to combine with this course: The Role of Emotions and Flow in the Learning